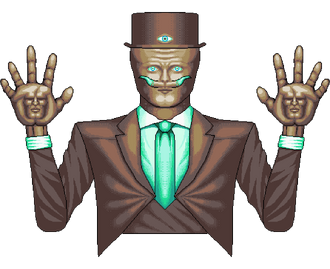 Brick Creeper
"Pray as if everything relies on God, work as if evrything relies on you."
Hello <insert name here> and welcome to my user page! I'm an administrator here, that means I can delete pages, close threads, block users, and a bunch of other neat things. So if you're having any trouble, need help, or just want to chat, send me a message on my message wall!
NOTICE: I may be inactive due to school and stuff, I hope you understand.
My Contacts
My Sprites
I also sprite in my free time. Check out some of them below!
---
My Projects
Current
Write My Story! (Postponed)
Work on The End. (current)
Start my Ocram re-make. (?)
Make more female NPCs. (Current)
Start the "Betrayal" and related ideas... (?)
Finished
Long Term
Finish War Mode.
Add categories to all articles.
Remove all articles from Cleanup.
Be a kind and friendly user.
To-Do
Sprite Granite/Marble Sword
Sprite Cat stuff
Start being more active! ("Stop kidding yourself Brick, that's never going to happen!" ... "Shut Up")
Community content is available under
CC-BY-SA
unless otherwise noted.