This article is currently a work in progress!

Shark Rain is an event that is randomly triggered during War Mode. All enemies in this event are sharks, that (only during this event) can fall from the sky and move on solid blocks (non-liquid). During the event, the sun is replaced by a yellow shark, the moon is replaced by a white sharkfin and the backround is beach themed, no matter where you go at surface. For completing the event you have to collect 10 Broken Hero Sharkfins and craft the Sharkfin Gun using them.

HC = Broken Hero Sharkfin drop chance.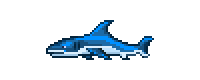 Enemies:
Blue Shark (Strongest, HC-1,2%)
Titanium Shark (HC-0,7%)
Goblin Shark (HC-0,5%)
Laser Shark (HC-0,5%)
Hammer Shark (HC-0,4%)

Bubble Shark (HC-0,2%)
Basking Shark (HC-0,1%)

Copper Shark (Weakest, HC-0,09%)

Drops:
Notes: